WHAT IS SPQ?
Social Practice Queens (SPQ) is a unique MFA Concentration and Post-graduate Certificate Program bringing together the resources of an academic research institution, Queens College (City University of New York: CUNY), with the long-standing community-based activism of the Queens Museum.
SPQ integrates studio work with social, tactical, interventionist and cooperative forms. SPQ's goal is to initiate interdisciplinary projects with real world outcomes rooted in CUNY's rigorous departmental offerings (e.g.: urban studies, environmental science, public policy, experimental pedagogy, social theory) in tandem with the Queens Museum's ongoing community-based activities.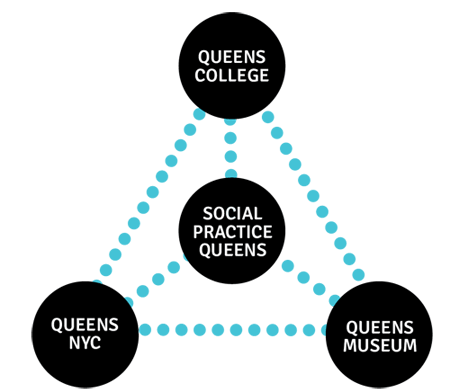 SPQ SEMINARS
Every semester there is seminar that introduces students to the contemporary theory and methodologies emerging in the nascent field, as well as to develop their understanding of critical theory and how it relates to their future role as cultural producers.
SPQ seminars are often team-taught, partnering QC Art Department faculty experienced in social practice, with professors in adjacent disciplines, including the QC Urban Studies department, or with professionals outside the university system.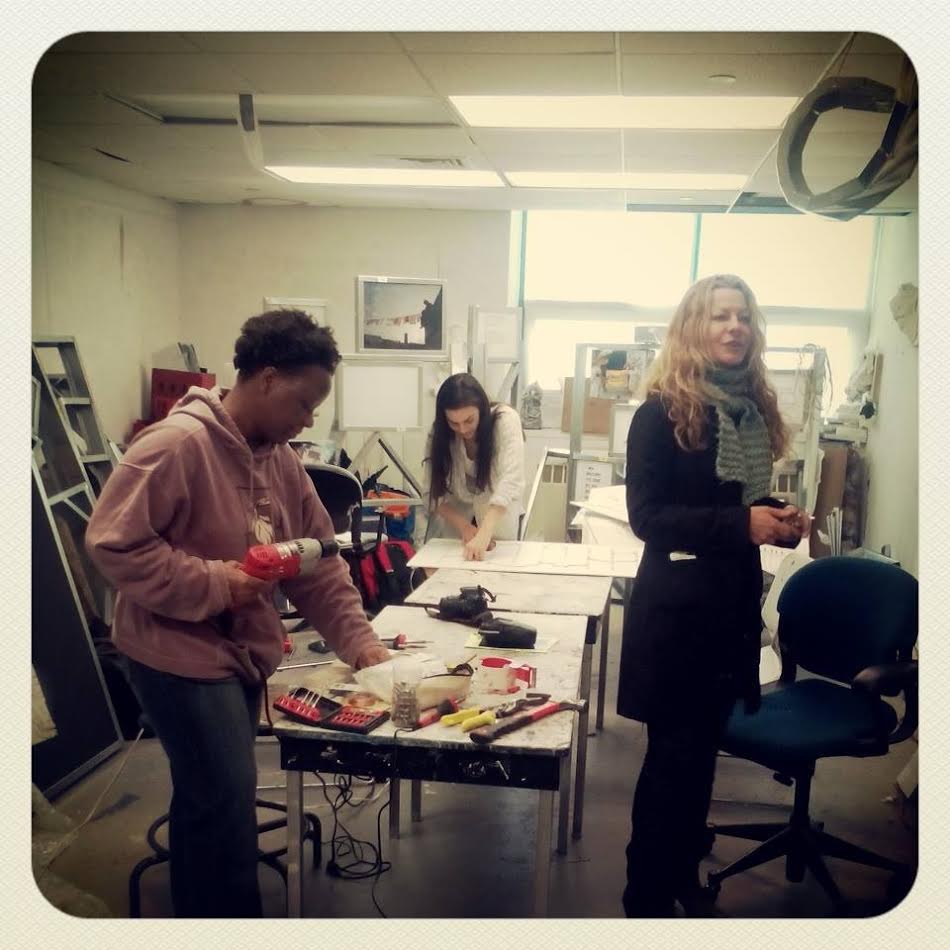 From the beginning, students are encouraged to develop real-world projects to serve as long-term practicums reflecting the ideas, theories and methodologies they encounter across their various SPQ seminars.
Student-led projects can be developed in tandem with the Queens Museum's ongoing community-based initiatives, giving students access to the formidable expertise, resources, and networks of the museum's community organizers and arts administrators.
MFA DEGREE
The QC Studio Art MFA curriculum is a two-year program that requires a total of 54 credits distributed as follows: 30 studio credits over four semesters; 6 art history credits over two courses; 6 seminar credits over two courses, 6 elective credits over 2 courses; one 3 credit writing seminar and one 3 credit class on contemporary issues.
All students have the opportunity to complement their studies with courses by leading academic experts in related fields of study throughout the CUNY system, like urban studies, sociology, history, philosophy, education, economics, law, urban planning, and environmental studies.
SPQ students have taken courses in CUNY's Graduate Center, the Brooklyn College Art Department, and City College.
CERTIFICATE IN CRITICAL SOCIAL PRACTICE
The program leading to the Certificate in Critical Social Practice is designed for advanced cultural practitioners who can show significant experience with social practice projects in one or more of the following areas: art, architecture, activism, urban studies, community organizing, social work, or related fields. This unique collaborative initiative between Queens College Art Department (CUNY: City University of New York) and the Queens Museum of Art—integrates social, tactical, immaterial, and interventionist art forms in tandem with the museum's ongoing, in-depth activities in socially-based art and grassroots community engagement under the expert guidance of a group of artists, administrators, educators engaged with local issues specific to Queens. For NYC residents this program represents an unparalleled value that comes with being part of a research based public university.
Application for Fall 2018 Enrollment Now Open
SPQ is truly breaking new ground in many ways: it is supporting a burgeoning new field of artistic practices through solid theoretical foundations; it is developing new alliances between arts education and non-educational, even commercial organizations in the world; and it has helped reposition the mission of an arts museum, the Queens Museum of Art. While other museums are committed to public education, SPQ has tied solid and lasting connections between the arts curriculum at Queens College and the presentations at the museum, significantly influencing the curatorial direction of the museum, and helping opening in up to local and international audiences.
Greg Sholette is the best example of an artist committed to a localized context who can establish meaningful connections to contexts far away, supporting international exchange with specific, localized and shared experiences. His work in educational institutions — Lebanon, Switzerland and elsewhere — and his involvement with a large international art collective — Gulf Labor — have benefitted SPQ immensely and opened it up to the world.
There is a need for this kind of program in the USA and in the East Coast in particular. Most Social Practice programs are based in the West Coast. In the east I believe only a school in Maryland has it. Furthermore, Social Practice is particular in its resistance to the market, actually it is total lack of interest in the market based art world. For this reason it really only makes sense to study it in a public institution that can keep the costs of such a degree affordable. Furthermore, the Queens MFA is aligned with with Queens Museum the only museum that has geared its entire mission and departments towards its own community. Structurally and ideologically the Queens Museum is perfectly aligned with Social Practice -other museums have relegated social practice to the education department. Furthermore, the Queens MFA in social practice is the ONLY MFA program in the city that is run in affiliation to a museum.
I would argue that Social Practice is the only field in contemporary arts that has a live discourse. All other discourses in painting, photography, sculpture, etc, are no longer growing. What passes for discourse is really art history, a discussion of innovations and changes that have already taken place. This growth and lively debate means that there is still room for students to become actual contributors to the field. The other fields can only offer competing for mastery over established concepts and forms.
The SPQ program is led by Greg Sholette, one of the most accomplished critics and artists working on contemporary socially-engaged art. Sholette has a long and impressive history as an activist artist and scholar, extending back to his early groundbreaking work with PADD and Repo-History, as well as his work as a critic, theorist and historian of engaged art (as evidenced in his books Dark Matter: Art and Politics in the Age of Enterprise Culture and the edited anthologies Collectivism after Modernism and The Interventionists). It would be difficult to imagine another figure in the contemporary art world who is better suited to run a program like SPQ.
The study of socially-engaged art has experienced a dramatic growth over the past decade. There are now several MFA programs in the US focused on this area of practice, with several more in the development stage. The SPQ program, however, has unique strengths, including the leadership of Greg Sholette, close ties with the Queens Museum of Art, a national leader in the area of museum-based support of engaged art, and proximity to the vital New York-area art scene, which has the largest concentration of activist artists and art collectives on the east coast.
Socially Engaged Art has changed the art practice in profound ways. It is not a genre or a discipline, but rather an overall rethinking of the artist's role in society. Artists who take part of this program are bring groomed to become agents of change wherever they may go- city government, urban renewal programs, arts education, or any socially- conscious initiative, public or private.  To support a social practice program is to help build the foundation for the artists of the future as change agents of society.